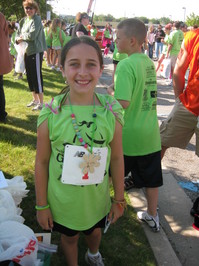 Photo by Julie Charney
Sometimes it takes awhile for our kids to find their niche, the one or two interests that will fuel them through childhood and adolescence. For Lauren Charney, a 10 year old fourth- grader from Saline, it wasn't until third grade that she truly found her passion. Running.
Not only has the sport inspired Lauren, but it has given her the platform to inspire other girls to run too. A national platform.
Although Lauren participates in other sports, it is running that "makes me feel like I can do anything." When I asked Lauren what advice she would give other girls who might be a little shy about putting their first step forward, she didn't hesitate in giving credit to
Girls On the Run
. Girls On the Run has given Lauren a vehicle to great achievement and put her in a place to inspire all of us.
Girls On the Run
is a non-profit, non-competitive organization. According to their website,
"Girls on the Run® is a life-changing, experiential learning programs for girls age eight to thirteen years old. The programs combine training for a 3.1 mile running event with self-esteem enhancing, uplifting workouts. The goals of the programs are to encourage positive emotional, social, mental, spiritual and physical development."
Lauren Charney has taken her running a step further. Turns out her love of the sport and inspirational attitude has launched her to a place where she is one of six national finalists in the
Kelloggs 2010 Junior Achievement Awards
. She has already been flown to Chicago for a photo/video shoot, and is now being featured on the Kelloggs
webisite
competing for the
2010 ESPY
award. She will fly to Los Angeles later this summer to attend the ESPY breakfast, where the winner will be announced. The winner will then attend the
ESPY Award Ceremony
that evening.
To learn more about Lauren and vote her to to the top
, go to
www.frostedflakes.com
.
Lauren has learned more than how to prepare for a race (like loading up on healthy peanut butter waffles and warming up her muscles with jumping jacks). She has learned what it is like to be supported by a community, to have self-esteem, to feel empowered to do anything.
Sometimes it takes a little time for our kids to really find what it is they are looking for. When they do, it is important for us as parents to support them, find outlets for them to go after what they dream of that gives them a sense of purpose and accomplishment. We all could learn a lot from girls like Lauren. It is never too late to take the first step.