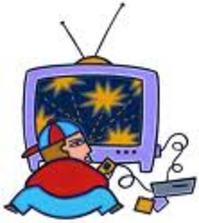 Imagine my delight when my eight year old son, who was playing a Star Wars game on Wii, blasting and lasering and dodging and exploding, paused his game, looked back at me and quoted a silly three-liner from a Judy Blume book. Hooray. Books still play a role in his imagination, even among battles with ships bursting into flames.
I'll credit that incident to the moderation we have placed, as parents, on his gaming activities, and the roots of reading we placed on our kids, incessantly, in their very young years. I am not a hater of video gaming. I do not believe they will be at fault for the downturn of future minds or upswing in children obesity numbers. As the Palo Alto Medical Foundation reports on their
website
, just like anything else, video games are okay in moderation as long as they are the right games, for the right amount of time.
Parents are advised to pay attention to the ratings. Our kids didn't start playing video games until they were at least six years old, after throngs of books had been read to them over and over again since before they were even born. For them, almost anything rated E for Everyone was okay. Even Star Wars was okay for us, as it was the LEGO version, and nothing more than they would have seen in the original movie.
Also, it is important to limit the time kids play, to make sure other activities take priority, or to even use gaming as a treat or reward. Monitor games, don't put them in the kids' bedrooms and talk about the games with your kids to find out what it is they like about them. Then, share your findings with other parents to keep everyone current on the video market.
According to
PAMF
, too much game time with violent video games can lead to more aggressive behavior. This is due to the repetition of the violence and a desire for kids to want to role play their gaming heroes. Again, a huge incentive for time limits.
I for one, am thrilled my son gets as much fun out of his literary characters, as he does his gaming ones. His room may be full of Darth Vader and R2D2, with light sabers and laser blasters, but at bedtime or on "library day", his heroes are still
Fudge
,
Geronimo Stilton
,
Cam Janson
and the barnyard animals of
Holly Webb books
...with a little bit of