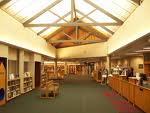 Photo by Vance Shutes--Real Estate One
I don't know about you, but when I was a teenager (ahem...back in the day), the only thing
we went to the library for was to study and do homework with friends. We had to whisper every bit of the time we were there, and we were afraid to get up and wander around looking for books in fear of being reprimanded.
Now I live in
Saline
with my family. Compared to the library of my youth, the
Saline District Library
is a rock star. Not only do teens have their own space there, complete with internet access, music and teen books galore, but the programs being offered to teens this summer are second to none.
We all know that most really good movies start out as even better books. The SDL has teen movie days showing rated PG-13 films from terrific books. This Friday kicks things off with
17 again
, then later this summer the fun and suspenseful
Jaws
, and the breathtaking cinematography and drama of
Titanic
. It wouldn't be a true movie experience without popcorn, so the library is providing that too!
Any parent who has a teenager is well aware of the Twilight, New Moon and upcoming Eclipse frenzy. If your kids aren't into Edward, Jacob and Bella, there is a good chance you are! Eclipse comes out in theatres June 30, so it makes perfect sense to attend the Eclipse Pre-release Teen Party on June 29th. Teens get to test their Twilight knowledge with games, make some cool gothic stuff and graze cuisine of all things vampire. How cool is that?
Another of my favorite programs for teens this summer is later on August 12th. For all

the budding clothing designers out there it is the Project Runway: Back To School Edition where teens will Up-cycle a fabulous new creation for their fall wardrobe. Plus, they'll discuss the fashion industry and careers for young designers and check out what's hot for back to school.
There are a ton of other programs for teens and all ages this summer at the Saline District Library, a lot of which do require reading! As a matter of fact, the teen summer reading program is giving prizes away for the first, sixth and twelfth books read. Some programs do require registration, so be sure and check the website.
I for one, need no flashing lights, sparkly baubles or trends du jour to get me into the library. I love the smell of the books, the hushed sounds of patrons walking among the shelves, the giggles of delight from a puppet show in the children's section. If, however, you are looking for a way to get your teenager in the library doors more often, be sure and let them know about all the "cool" things happening at their neighborhood library this summer