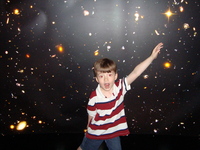 Happy twentieth birthday to the
Hubble Telescope
. Our family had the pleasure of seeing
the Hubble exhibit at the
Exhibit Museum of Natural History in Ann Arbor last summer. Since then, we have all continued to be fascinated by Hubble, the mirror repair, its gorgeous pictures, the fact that it is been around for twenty years, and that it is expected to keep snapping photographs for at least another five. What was really exciting though, was when we found out what the Hubble people are doing in honor of their twentieth year. Your kids can actually
record
their thoughts and feelings about Hubble, and have it recorded in the archives, right alongside the full collection of the telescope's scientific data.
You can check out all things Hubble at its very own website,
www.hubblesite.org
. This is where you can record your thoughts about the telescope for all to know for the rest of history.
The Hubblesite also has a step by step process for kids to build their very own
hand-held replica
of Hubble using everyday items found at your local hardware store. There are three different versions depending on the age or skill level of your child from average to very difficult.
For parents and teachers there is an
educator's section
, a full gallery of gorgeous photographs taken by Hubble and all of the latest news and updates on its progress.
If you'd like to hear a terrific discussion about Hubble, its history and facts and tidbits, go to
NPR's Science Friday's
website to listen to an audio file of yesterday's show. They explain so many interesting things, including the colors in the photos, whether they are real colors or filtered.
If you or your child is at all fascinated by space or astronomy, I highly recommend taking some "Hubble time" this weekend. Have fun!