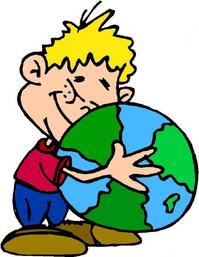 Photo Credit| Courtesy Graphic
Earth Day
turns forty today. A perfect excuse for you and your kids to
throw Mother Earth a party. Whether you plan it for this weekend, or throw a surprise after-school bash, here are some ideas to make your theme greener.
Invitations:
Cut up a paper grocery bag and let your kids go to town decorating. One paper bag is enough for your entire guest list!
Cake:
Organic, of course. There are a ton of
recipes
on the web for all-natural and organic goodies. Even better, try some "no-bake" brownies and save energy too! Or have your crowd decorate round sugar cookies with blue and green frosting to make little "earths" to pack in their lunches. A tasty reminder to take care of our planet!
Activities:
There are a million! Make bird feeders out of recycled milk containers, plant an herb garden in egg cartons, or how about a field trip to the
Scrap Box
, or other location where you can get your hands on some un-used goodies to create whatever the imagination can come up with. Want something not so cliche? Check out the web for a
ton of green action items
.
Music:
Love this list of
Eco-ABC's
...have the kids learn it karaoke style.
Party favors:
Send everyone home with a seedling to plant a tree or a treat in a reusable container like a shovel and spade.
Thank you cards:
Have the kids paint an Earth Day mural as one of their activities. After the party, cut out pieces of it to make unique cards with a modern-art feel. Send your guests a piece of the masterpiece they created at the party...another reminder of why they were celebrating in the first place.